Research Paper
The 2014 Ministry of Justice CPTED Projects: Status and Monitoring Report
Cho, Sangkyu Research Fellow Son, Dongpil Research Fellow Cho, Youngjin Associate Research Fellow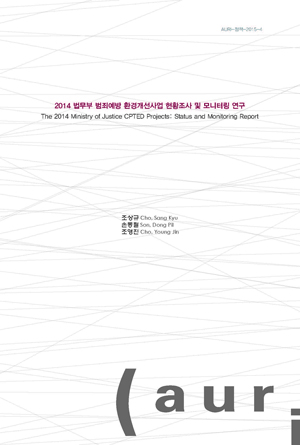 AURI-Provisional-2015-4
2015.12.01
4Page
Hit 7245
Summary
This research monitors the process, resident's satisfaction, the maintainment and management of ten CPTED pilot projects, implemented by The Ministry of Justice. It also identifies the drawbacks of ongoing projects. As a result, this research seeks to suggest improvement direction for effective project promotion.
Research target sites are ten sites in total among 2014 projects: five sites in the Metropolitan area, two sites in Yeongnam area, one site in Honam area, and two sites in Chungcheong area. In order to
understand detailed projects, this research firstly collected and analyzed each project's data, such as project schedules, backgrounds and objectives, construction items, before and after project photos, the role of stakeholders, necessary budgets, etc.
For effective monitoring, field investigation checklists, survey questionnaires, interview questionnaires and crime data analysis method were developed, based on these research data.
Cho - other reports