auri Research Brief
Current Status and Prospects of Subion Living in the Era of Remote Work
No.83
2022.12.31
Hit 3794
Park, Seokhwan Associate Research Fellow
Seong, Eunyoung Research Fellow
Byun, Eunjoo Assistant Research Fellow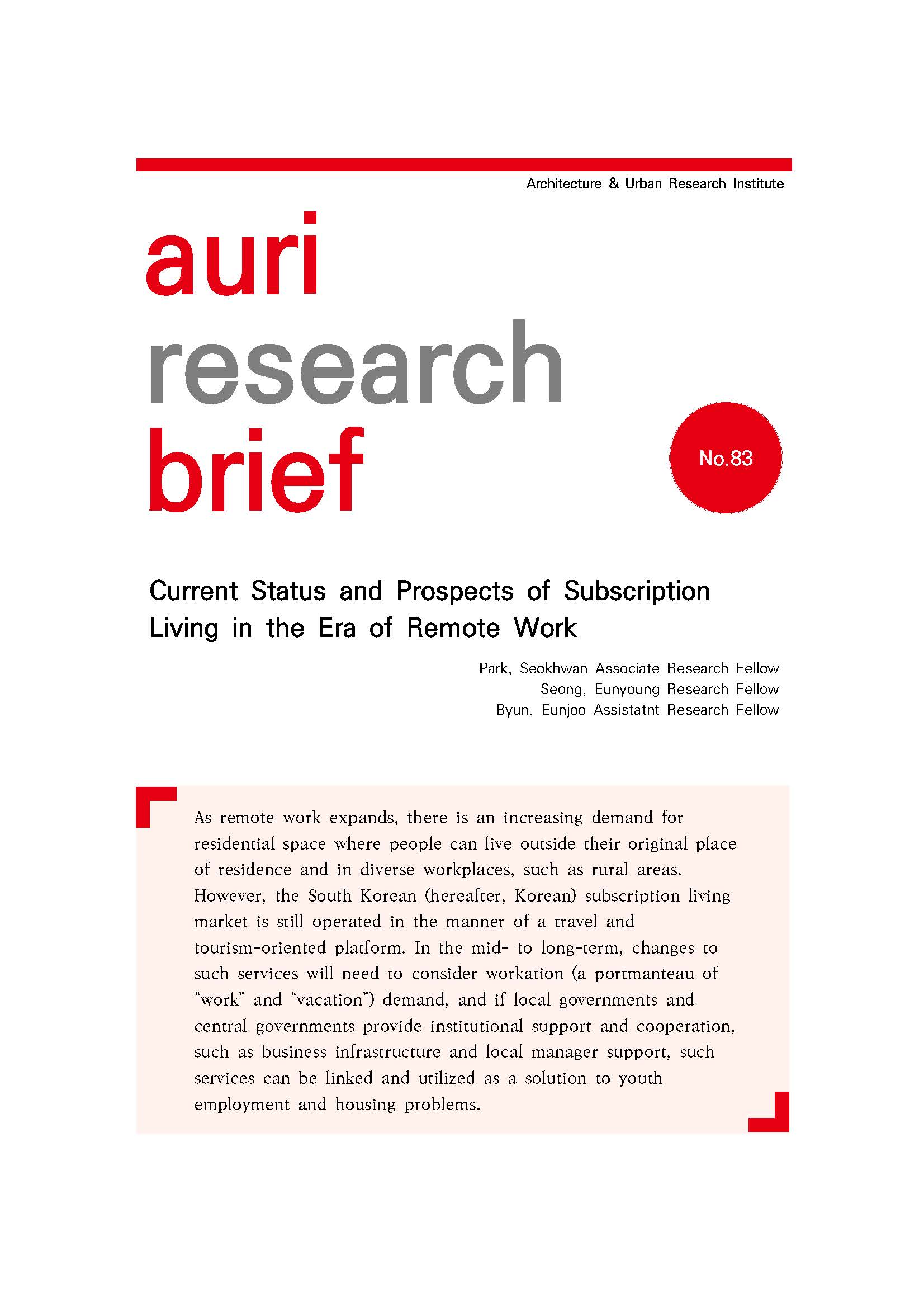 As remote work expands, there is an increasing demand for residential space where people can live outside their original place of residence and in diverse workplaces, such as rural areas. However, the South Korean (hereafter, Korean) subscription living market is still operated in the manner of a travel and tourism-oriented platform. In the mid- to long-term, changes to such services will need to consider workation (a portmanteau of "work" and "vacation") demand, and if local governments and central governments provide institutional support and cooperation, such as business infrastructure and local manager support, such services can be linked and utilized as a solution to youth employment and housing problems.
Changes in residence due to the expansion of remote work
"The future is already here. It just isn't widespread."1) The era of "information/telecommuting", a change in future living predicted by Alvin Toffler, a world-renowned futurist, in The Third Wave (1982) seemed unlikely to materialize even after 30 years, but the global impact of COVID-19 in 2020 helped spread the idea after the epidemic. Today, large corporations, public institutions, and small and medium-sized enterprises are implementing various forms of remote work, such as working from home, branch offices, and smart work centers.2)
In this trend, in the information technology (IT) industry where the majority of employees are of the MZ generation, a flexible work environment has become the trend, such as through implementing a complete telecommuting system, introducing a hybrid method that mixes commuting and telecommuting, and 'worksite' working at resorts. This new trend reflects the characteristics of the MZ generation, who value work-life balance and pursue work efficiency by considering 'how' they can work anytime, anywhere. In December 2021, the job information platform Job Korea surveyed 926 current office workers on their perception of work, and 85.2% responded positively. The majority of respondents answered that the workation system is an effective system in terms of employee welfare and stress reduction. As a result, representative Korean IT companies such as Naver, Kakao, and Line Plus introduced autonomous work systems, including complete telecommuting, irrespective of the COVID-19 pandemic (Kim Moon-ki, 2022).
However, companies or managers may still be hesitant to actively introduce such systems due to problems with reduced work efficiency and productivity or difficulties in time and attendance management when remote work is implemented. Nevertheless, considering that the MZ generation prefers a supportive welfare context over a high compensation and has a greater desire to work while adjusting the environment to suit their situation, companies need to develop a more autonomous work environment than their competitors in order to secure young and outstanding talent. Office rental and management costs can be reduced, and office workers can spend 1-2 hours of commuting time and money on more productive purposes. Employees do not have to live in Seoul and pay the associated expensive housing costs. As a result of a survey of 12,500 office workers around the world by the World Economic Forum (WEF), 64% hoped to work remotely even after COVID-19, and 30% of respondents said they would consider changing jobs if companies insisted on them working in an office. According to Yano Economic Research Institute's prediction, the size of Japan's workation market is expected to grow rapidly from 69.9 billion yen in 2020 to 107.7 billion yen in 2023 and reach 362.2 billion yen in 2025. This means that the scale will grow fivefold in just five years (Kim Kyung-pil, 2022, p. 17).





Taking a comprehensive look at these contents, it is expected that even if the spread of infectious diseases decreases and normal daily life returns to normal, workers and corporate executives who have experienced the advantages of remote working methods such as telecommuting will continue to utilize remote work. As remote work expands, local living and workation become possible, and additional housing is needed even in remote working places such as rural areas. It is not easy to buy a new residence to work for a short period of a few days to at most two or three months in the form of a worksite at a remote workplace, and it is not easy to find suitable housing because short-term monthly rent is not the rental format preferred by landlords. In addition, due to the nature of remote work, moving frequently occurs according to need or desire rather than long-term residence in one particular location, and it is very difficult to find a place to live each time. Therefore, in response to this demand, case studies of the provision of short-term rental services or subscription services in the housing and housing markets are growing significantly.
Current status of the subscription economy and subscription living
In the less affluent past, people expressed themselves through the things that they possessed. Now, however, people express their identities through experiences rather than objects. In particular, the millennial generation wants to experience diverse phenomena rather than own many things. If a person can enjoy the utility from an object and are satisfied with the experience, they are not obsessed with owning the object itself. As 'experience' becomes more important than 'possession', the era of 'not buying things' has emerged. Subscription services refer to a contract in which a supplier periodically provides a product or service that a user wants by paying a certain amount. In other words, it is a form of a continuous contract to provide goods or services over a certain time period. A newly emerging subscription service is enhancing customer satisfaction by adding a new value in the form of an additional 'plus alpha service' to these basic definitions. New value can be largely divided into three categories: curation, customization, and experience. New subscription businesses provide new value, such as relieving customers of the pain of choosing products and services or extending their experiences. Customers are attracted to these values and are shifting their consumption patterns from 'buying' to 'subscribing' (Jeong Hee-sun, 2021, pp. 6-9).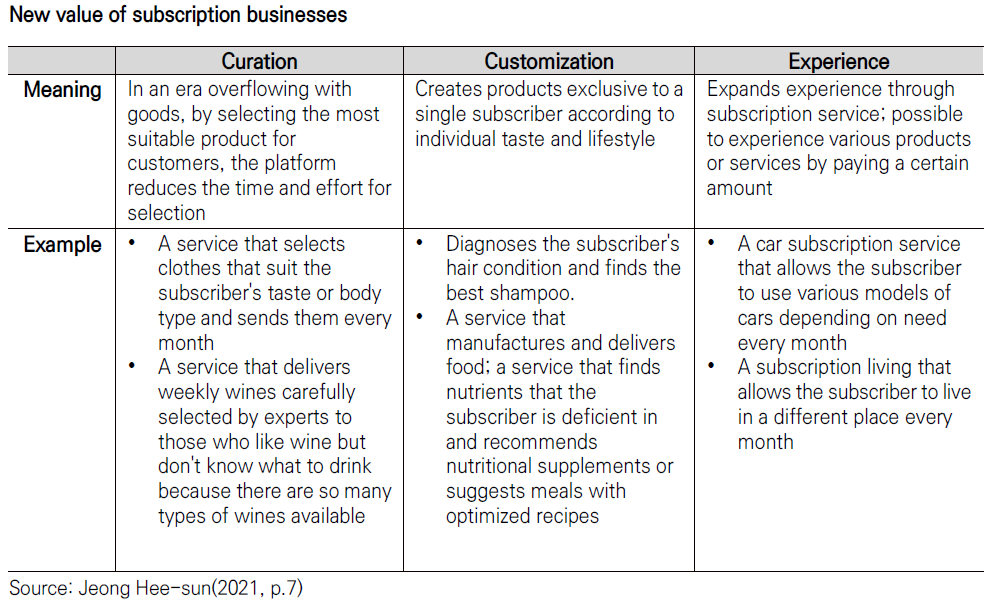 There are now subscription living that take advantage of the characteristics of the subscription economy, which allows consumers to choose according to their tastes and to provide their own experience, within the housing economy. Some examples of these new platforms are in the form of the following: Japan's ADDress, HafH, and Hostel Life, which launched their services through crowdfunding in early 2019, as well as 'Live Anywhere' and accommodation curation platform 'Stayfolio' in line with the 'live a month somewhere' travel trend in Korea ', 'Yoohyu', a new daily life service, which starts in a neighborhood that you want to live in, and 'Dajayo', which remodels an empty house and recreates it as an accommodation facility.

- ADDress, a subscription living in Japan
ADDress tried to improve Japan's approach to the vacant housing problem3) by paying attention to the spread of new work methods and unconstrained lifestyles. ADDress aims to solve the vacant house problem4) by renting idle real estate including a vacant home to those who want to move to rural areas, and at the same time proposing and realizing a new lifestyle in multi-hub residences.



ADDress drew attention as about 1,000 people signed up during a drive to recruit 30 active members at the beginning of the service (高島知子, 2021). Then, going through the pandemic, the number of members increased by six times in 2020. In particular, through the COVID-19 era, the tendency to use the service increased not only among individual entrepreneurs such as freelancers but also among general office workers. ADDress' service is particularly well received by those in their 20s and 30s living in cities, and as the number of service users increases, companies are actively responding to changing lifestyles such as remote work through a subscription system.
After paying a fixed subscription fee (40,000 to 80,000 yen per month), subscribers can live anywhere in the residential space operated by ADDress nationwide. Depending on the type of subscription service, subscribers can live in one space for up to one month. As of 2021, about 200 residential spaces are in operation across Japan.5) In order to provide a living space, the entire vacant house (4DK principle) is mainly utilized (subletting, using real estate contracts) to create a living space, and there are standard guidelines that must be adhered to for each bedroom, kitchen, and common space.6)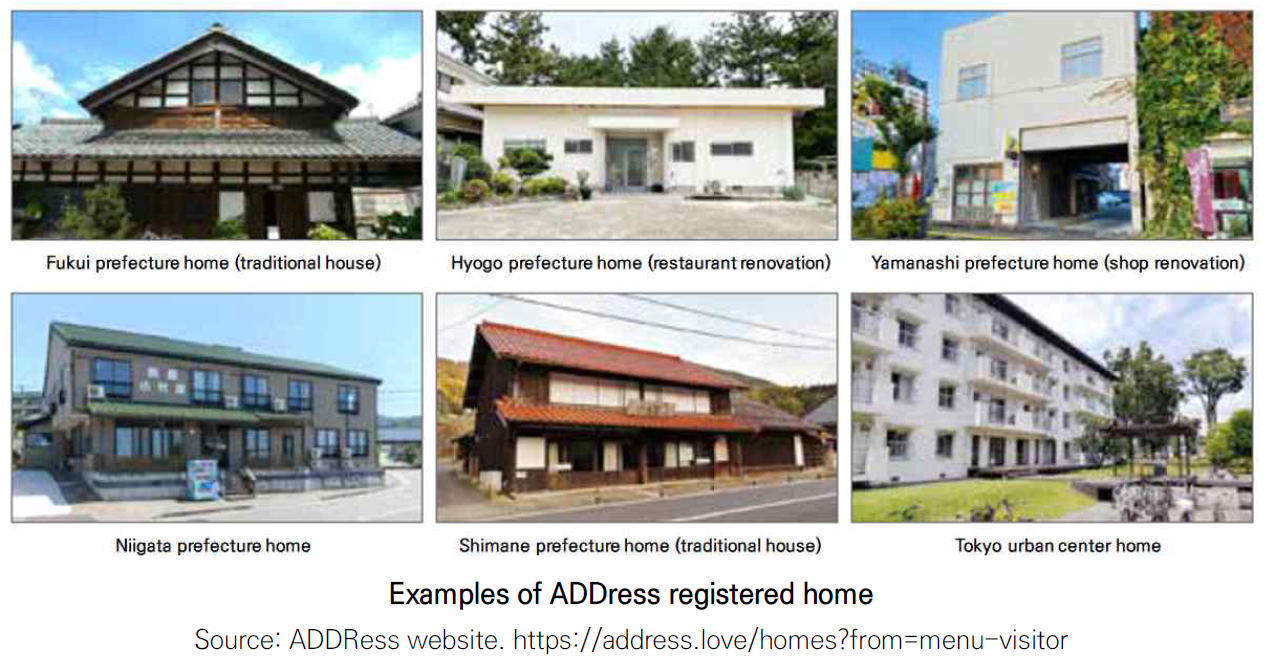 ADDress' basic principle is to provide the best equipped living environment to service users. Accordingly, in the area where the service housing is located, a manager (Yamori, 家守) who plays the role of housing management and living support, is employed to support those living in an unfamiliar place. These managers provide support through reservations and information, cleaning and maintenance, and local lifestyle tips.

- Characteristics of Korean subscription living
In Korea, the subscription living is still underpinned by the 'living somewhere for a month' service in representative resort areas rather than demand for work or moving to work. An emergent travel trend, where modern people who are tired of busy daily life in the city have time to rest and recharge, 'living somewhere for a month' has become more popular in line with the contactless platforms emergent in the pandemic era. It has now become a trend for the MZ generation who enjoys the scenery and relaxation of the sea and island areas such as Jeju Island, Namhae, Yangyang, and Sokcho. Although the market size is still not large, demand continues to grow, and each service has its own characteristics.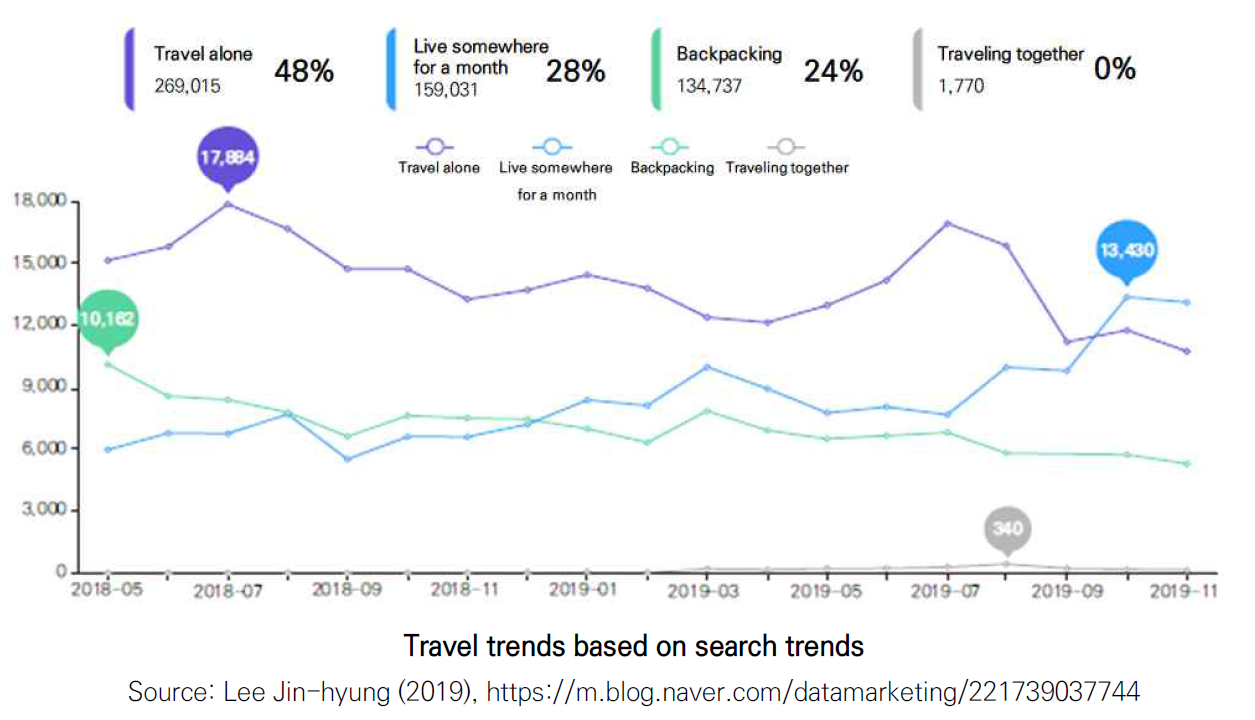 - Live Anywhere
It has been less than two years since the service started with a total investment of 2 billion won, but the total number of downloads exceeds 600,000 when both Android and iOS app store downloads are combined. The most notable feature of the service along with its reasonable prices is that it is the only accommodation app in Korea that allows you to take advantage of (electronic) lease agreements. For this reason, the reliability of the reservation service is high, and both the landlord and the user are satisfied by ensuring that the service remains legal and transparent. The main user group is women in their 30s and 40s, and according to Mobile Index, the number of monthly active users (MAU) in June 2022 ranked 5th among domestic monthly accommodation apps, and in January 2022, the platform exceeded last year's revenue of (2.3 billion won).
- Stayfolio
'Stayfolio' is an accommodation curation platform that helped promote the concept of 'stays' to the lodging industry of Korea, which was dominated by hotels, motels, and pensions. The main purpose of Stayfolio is to maintain or increase the value of assets by remodeling idle real estate, and it is possible to manage homes remotely and in real time using advanced Internet of things (IoT) technology. With a remote unmanned system (Staybinder) underpinned by IoT technology, property owners can monitor detailed movements that occur within the accommodation, such as checking the door lock and notifying guests of people entering the premises, adjusting air conditioning and lighting controls, adjusting windows and curtain blinds, and opening and managing furniture and drawers. Remote control of the power supply can prevent fires and reduce electrical waste. In addition, there is a manager who resides in the area and performs cleaning and other management tasks.
- Yoohyu
As a "new everyday vacant lodging curation platform starting from the neighborhood you want to live in," Yoohyu curates and provides information on vacant homes that can provide accommodation in small cities and provincial areas. Using the resources of empty houses in the neighborhoods where subscribers want to live, such as Namhae, Jeju, Sokcho, and Yeosu, the platform presents stylish and comfortable housing options equipped with necessary furniture and fixtures as an end-user service product. Starting with the first premises in April 2020 using an empty house in Namhae-gun, Gyeongsangnam-do, Yoohyu is currently expanding its operation at a 10th location in Sokcho. There are various housing types, such as detached houses, officetels (a Korean term for upscale studios), residences, and apartments, and it is possible to live in one of these premises at a cost of 700,000 won to 1 million won per week. Excluding officetels and residences, the space is at least three rooms and at least one bathroom.


- Mr. Mention
Mr. Mention is a representative start-up company in Busan that has more than doubled its revenue every year since the service was launched in 2016, and provides services similar to Airbnb. Mr. Mention revitalizes the local economy by repurposing idle facilities (vacant homes) in urban regeneration areas and depopulated areas and turning them into lodging facilities for a week, 15 days, or a month. Mr. Mention has been used by more than four million people and operates more than 2,500 accommodations in Jeju, 1,700 inland accommodations, and 300 accommodations in Thailand. In recent years, there have been many inquiries about workations from companies and institutions, and to revitalize the concept of workations among Korean firms, the platform is trying to operate and support welfare accommodations for companies that need accommodation for vacations and business trips. It was recently announced that the Korea Startup Forum would start a workation service for 40,000 executives and employees of 2,000 member companies (Lee Hyun-nam, 2022).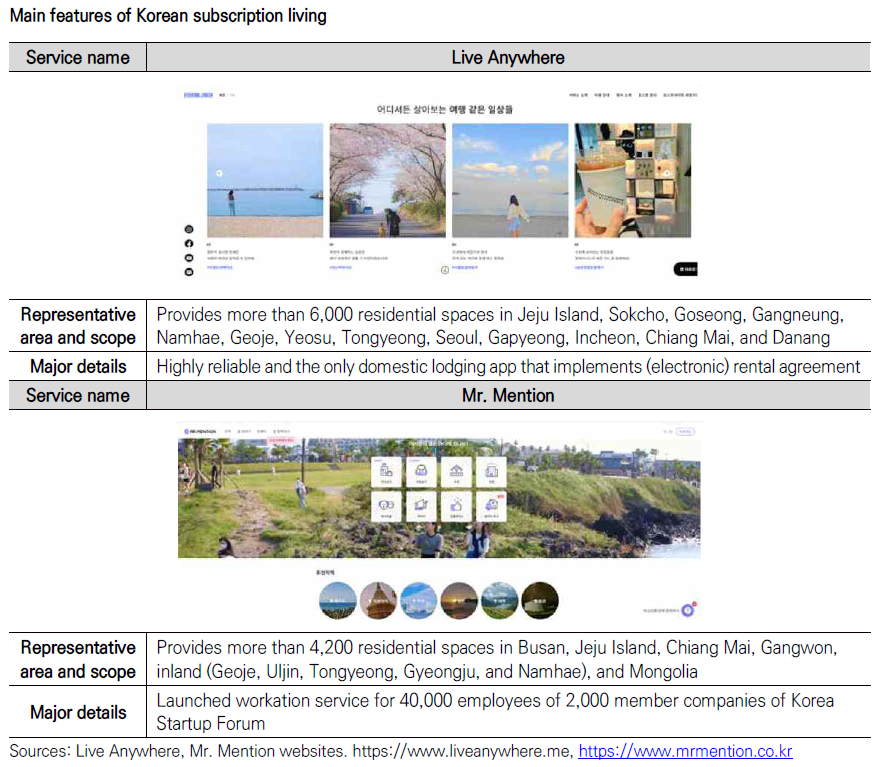 Implications and prospects of subscription living
ADDress' social impact report (ADDress Impact Report Vol.1, 2020-21) aims to "increase the number of people living with a sense of happiness" and to "realize a local lifestyle that is not dependent on tourism" as the ultimate goals of its services. ADDress' subscription living can be seen as an example of repurposing the problem of vacant homes in rural areas in Japan while providing services with lifestyle changes such as remote work as an opportunity. However, the Korean subscription living is still provided mainly as a demand-customized curation platform centered on 'living somewhere for a month' or 'providing short-term travel accommodation'. As with overseas case studies, it is necessary to transform these platforms into services that consider the growing demand for workplaces, including multiple residence registration functions. They can also be linked and used as a solution to housing problems.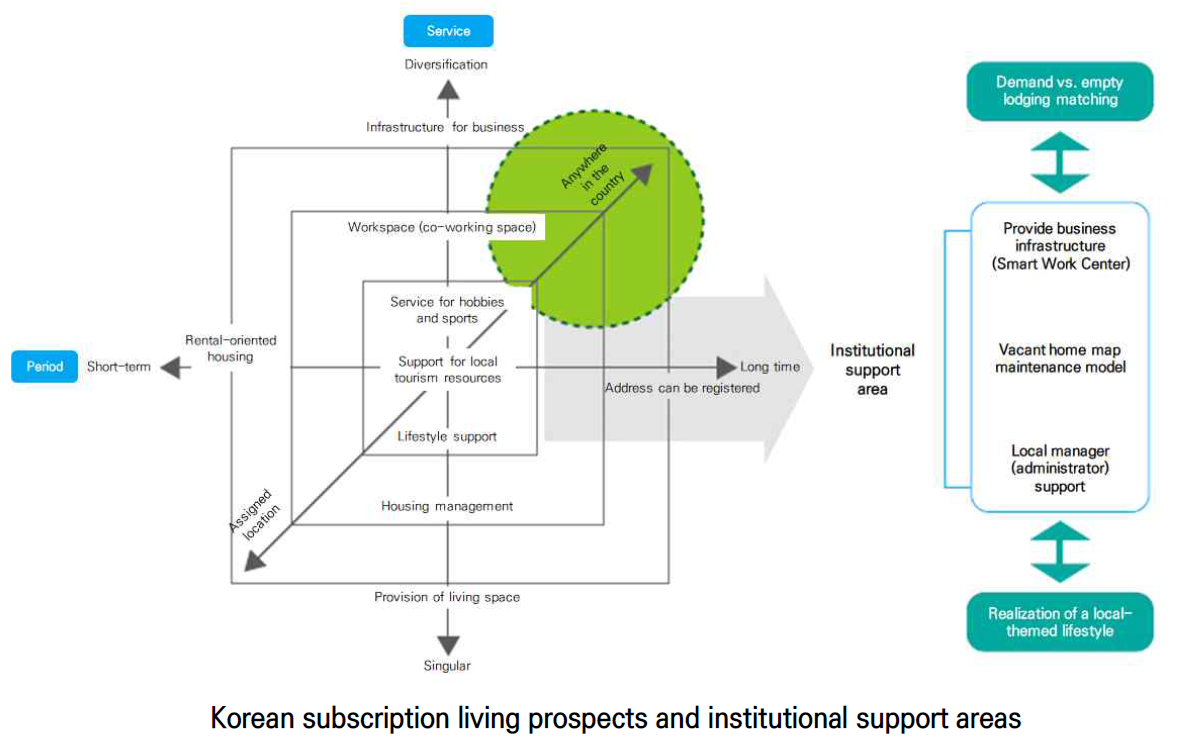 With the expansion of work environments and remote work environments, a shared office space or support facilities are needed to work efficiently in addition to a second residential space. As for the infrastructure of the work environment, a functional space in which a shared office, Internet access, and video conferencing can be performed without interruption, is a prerequisite. This can be said to require active cooperation and cooperation from local governments. This is because these spaces can be provided at a low cost by utilizing local idle spaces or empty offices.
Japan's Nagano Prefecture, which is struggling with population decline, has been revitalizing local areas by renovating closed schools or idle spaces owned by local governments into facilities such as barbecue sites, accommodations, and shared offices for workplaces since 2018. Wakamaya Prefecture, which launched remote work (workations) as a pioneer in Japan, introduced corporate-type remote work unlike individual-oriented European and North American remote work platforms, helping to revitalize the region as well as the tourism industry and to improve the quality of life for white collar employees. To promote remote work, Wakayama Prefecture cooperated with the lodging industry to expand the facilities needed for remote work, and above all else, conducted various efforts to allow companies to visit (Kim Kyung-pil, pp. 145-166). In this way, if local governments lead in supporting the environment for remote work and workations, the subscription living market can grow and diversify as well.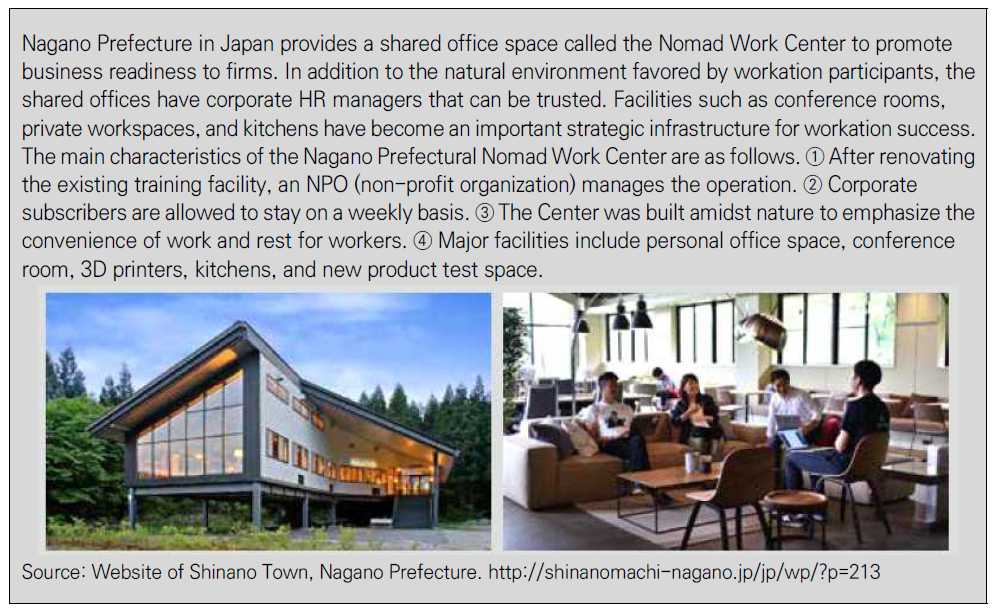 In addition, just as ADDress provides support for local managers (lodging facility site managers), the relevant government or local governments must pay for costs or manpower so that local managers can spread and disseminate information on local tourism, culture, experiences, and lifestyle. If support is provided, service subscribers will be able to better experience the beauty of local life.



1) The words of famous science fiction novelist William Ford Gibson's are often quoted by futurists.

2) 100% of the employees of the real estate brokerage platform Zigbang work from home. Hunet, an educational service provider, Netmarble with revenue of 1.3 trillion won and over 1,000 employees, and Samsung Electronics, the largest blue cap company on the Korean stock exchange are actively implemented flexible work solutions. As of the end of 2022, companies continue to implement remote work such as telecommuting due to the recurring spread of infectious diseases.

3) The problem of vacant homes in Japanese rural areas is still a serious problem. It is predicted that 30% of such residences will be vacant by 2033.

4) https://address.love/company?from=menu-visitor

5) ADDress Impact Report vol.1, p.4

6) https://houseowner.address.love/column/VnisWISA



Koyama Ryusukebu. (2020). HOME HACKS. Ahn Graphics.
Kim, Kyung-pil. (2022). An era where workers, not companies, choose locations. Cloud Nine.
Kim, Moon-ki. (2022). MZ generation, you can work anywhere... 'Workation' craze in the IT industry. eye news. https://www.inews24.com/view/1501746 (Retrieved on 2022-8-10)
Website of Shinano-machi, Nagano Prefecture. http://shinanomachi-nagano.jp/jp/wp/?p=213
Donga Business Review. (2021-12-22). Acceleration of digital work.
Live Anywhere website. https://www.liveanywhere.me
Mr. Mention website. https://www.mrmention.co.kr
Seoul Metropolitan Area 50 Plus Center Pathfinder. (2022). Live in Gangneung. Publity.
Lee, Jin-hyung. (2019). Live somewhere for a month, travel trends informed by cultural big data. Data Marketing Korea Official Blog. https://m.blog.naver.com/datamarketing/221739037744
Lee, Hyun-nam. (2022). Mr. Mention starts workation service for 2,000 member companies of Korea Startup Forum. Dailyan. August 16 article.
Jeong, Hee-sun. (2021). I live without buying. Window of the future.
Hwang, In-seon. (2022). Four worlds. Leesae
ADDress website. https://address.love/
ADDress inventory registration website. https://houseowner.address.love/column/VnisWISA
高島知子. (2021). "多拠点生活"が新たな生態系を生む。ADDressが利用者と地域にもたらす暮らしの豊かさ. XD.
Park - other reports