auri Research Brief
Survey and Planning Framework for Sustainable Management of the 'Modern Historic-Cultural District'
No.73
2021.08.19
Hit 4116
Lim, Yookyoung Research Fellow
Sim, Kyungmi Research Fellow
Kwon, Youngran Assistant Research Fellow
Bang, Boram Assistant Research Fellow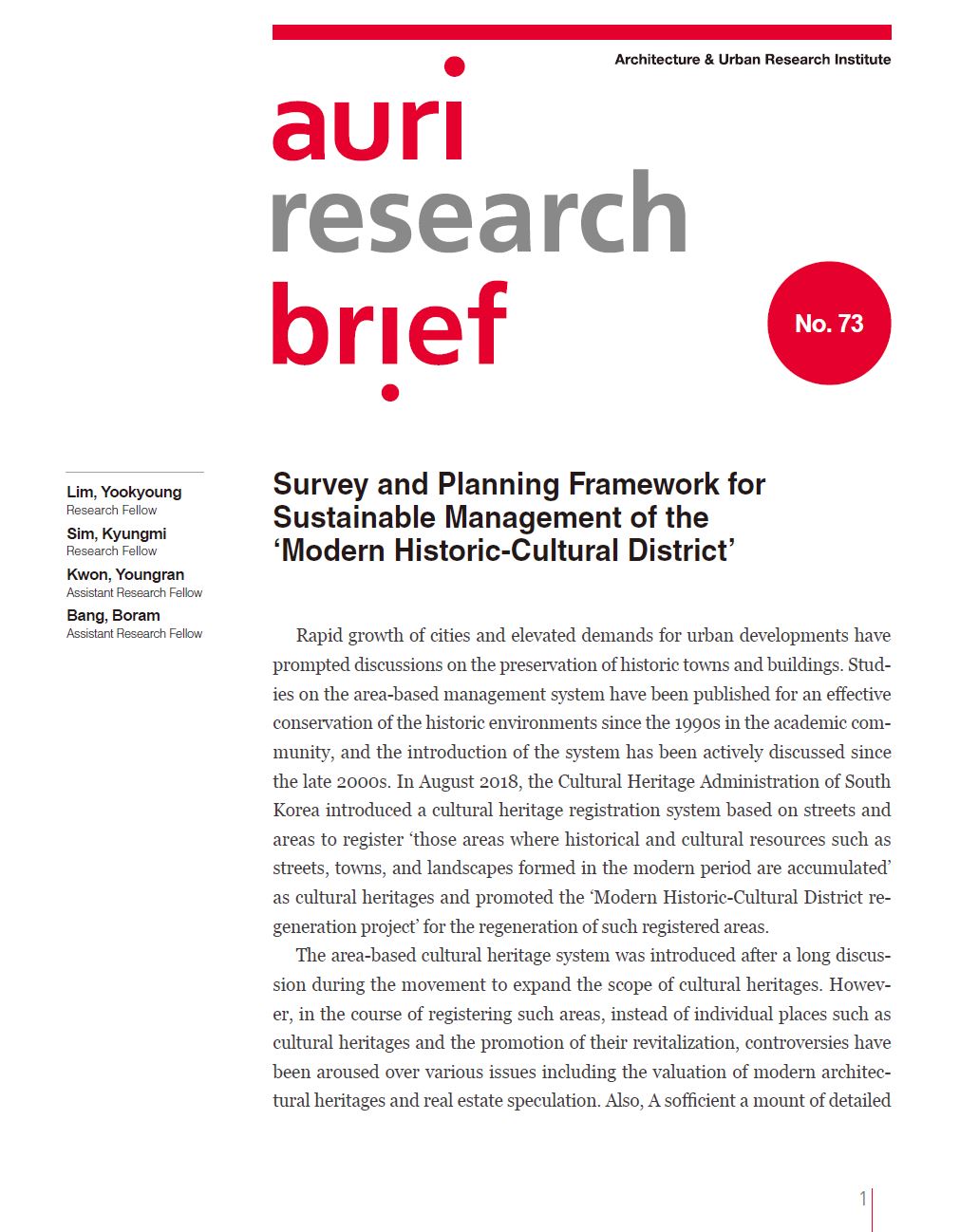 Rapid growth of cities and elevated demands for urban developments have prompted discussions on the preservation of historic towns and buildings. Studies on the area-based management system have been published for an effective conservation of the historic environments since the 1990s in the academic community, and the introduction of the system has been actively discussed since the late 2000s. In August 2018, the Cultural Heritage Administration of South Korea introduced a cultural heritage registration system based on streets and areas to register 'those areas where historical and cultural resources such as streets, towns, and landscapes formed in the modern period are accumulated' as cultural heritages and promoted the 'Modern Historic-Cultural District regeneration project' for the regeneration of such registered areas.
The area-based cultural heritage system was introduced after a long discussion during the movement to expand the scope of cultural heritages. However, in the course of registering such areas, instead of individual places such as cultural heritages and the promotion of their revitalization, controversies have been aroused over various issues including the valuation of modern architectural heritages and real estate speculation. Also, A sofficient a mount of detailed investigation and planning for the implementation of the cultural heritage system have not been conducted yet. There is a high concern that the originality of the regions will be damaged if projects promoting tourism for revitalization and improve pedestrian environments are commenced without a comprehensive understanding of the regional characteristics.
The historic environment, which is a place of both historic value and life, requires different approaches than other environments used to deal with individual cultural heritages. The study aims to present the characteristics of the modern historic-cultural district project during its promotion, to analyze the systems related with the historic environment in South Korea and the rest of the world, and to propose a system of research and planning for the sustainable management of the modern historic-cultural district.
Lim - other reports