auri Research Brief
Measures to Operate and Manage Sustainable Smart City Services
No.76
2021.10.28
Hit 12365
Song, Yumi Assistant Research Fellow
Moon, Boram Assistant Research Fellow
Park, Sungnam Associate Research Fellow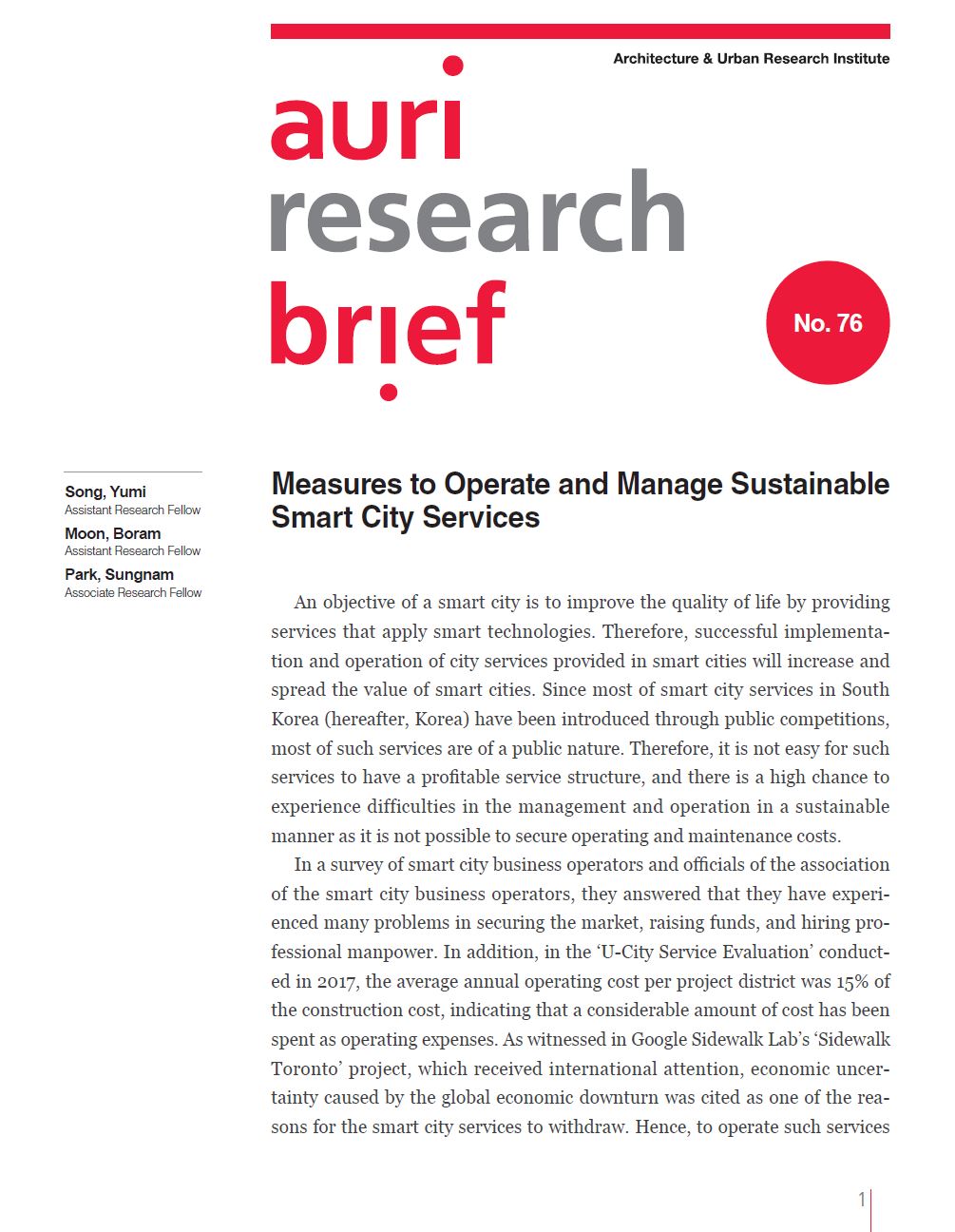 An objective of a smart city is to improve the quality of life by providing services that apply smart technologies. Therefore, successful implementation and operation of city services provided in smart cities will increase and spread the value of smart cities. Since most of smart city services in South Korea (hereafter, Korea) have been introduced through public competitions, most of such services are of a public nature. Therefore, it is not easy for such
services to have a profitable service structure, and there is a high chance to experience difficulties in the management and operation in a sustainable manner as it is not possible to secure operating and maintenance costs.
In a survey of smart city business operators and officials of the association of the smart city business operators, they answered that they have experienced many problems in securing the market, raising funds, and hiring professional manpower. In addition, in the 'U-City Service Evaluation' conducted in 2017, the average annual operating cost per project district was 15% of the construction cost, indicating that a considerable amount of cost has been spent as operating expenses. As witnessed in Google Sidewalk Lab's 'Sidewalk Toronto' project, which received international attention, economic uncertainty caused by the global economic downturn was cited as one of the reasons for the smart city services to withdraw. Hence, to operate such services requires not only to prepare an appropriate cost and benefit structure, but also to strive for stable operation.
The purpose of this study is to identify the characteristics and problems of smart city services in Korea, and to find a systematic way for smart city services to have a stable operation structure from the planning stage. Accordingly, business model analysis was conducted targeting the services of major smart city plans in Korea to check the status of smart city services in Korea.

Song - other reports