auri Research Brief
Plans to Reorganize, Manage, and Operate Old Parks through Public-Private Partnership
No.71
2021.05.18
Hit 7724
Kim, Yonggook Associate Research Fellow
Kim, Younghyun Research Fellow
Yang, Shiwoong Assistant Research Fellow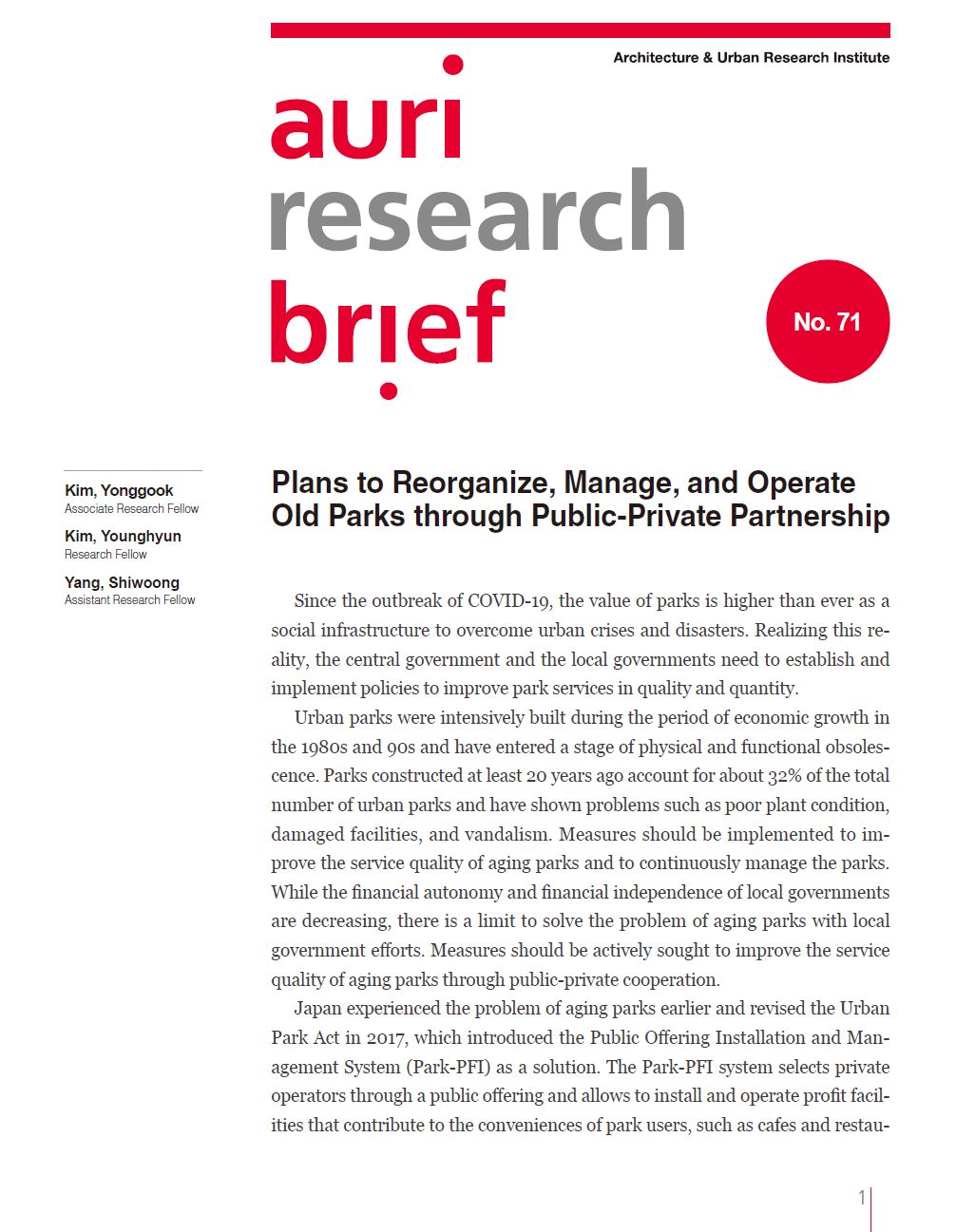 Since the outbreak of COVID-19, the value of parks is higher than ever as a social infrastructure to overcome urban crises and disasters. Realizing this reality, the central government and the local governments need to establish and implement policies to improve park services in quality and quantity.
Urban parks were intensively built during the period of economic growth in the 1980s and 90s and have entered a stage of physical and functional obsolescence. Parks constructed at least 20 years ago account for about 32% of the total number of urban parks and have shown problems such as poor plant condition, damaged facilities, and vandalism. Measures should be implemented to improve the service quality of aging parks and to continuously manage the parks. While the financial autonomy and financial independence of local governments are decreasing, there is a limit to solve the problem of aging parks with local government efforts. Measures should be actively sought to improve the service quality of aging parks through public-private cooperation.
Japan experienced the problem of aging parks earlier and revised the Urban Park Act in 2017, which introduced the Public Offering Installation and Management System (Park-PFI) as a solution. The Park-PFI system selects private operators through a public offering and allows to install and operate profit facilities that contribute to the conveniences of park users, such as cafes and restaurants, and maintain park facilities such as old walking paths and squares. As an alternative solution to improve the quality of service of the aging parks in South Korea (hereafter, Korea) and to continuously manage and operate the parks, this study aims to propose a private park maintenance and management system, or Park-PFI in Korea, and to present specific measures that implement the system based on the Park-PFI in Japan.
Kim - other reports