auri Research Brief
Improvements of a Management System for Sustainable Operation of Privately Owned Public Spaces
No.75
2021.09.06
Hit 12758
Kim, Youngji Assistant Research Fellow
Oh, Sunghoon Senior Research Fellow
Her, Jaeseok Assistant Research Fellow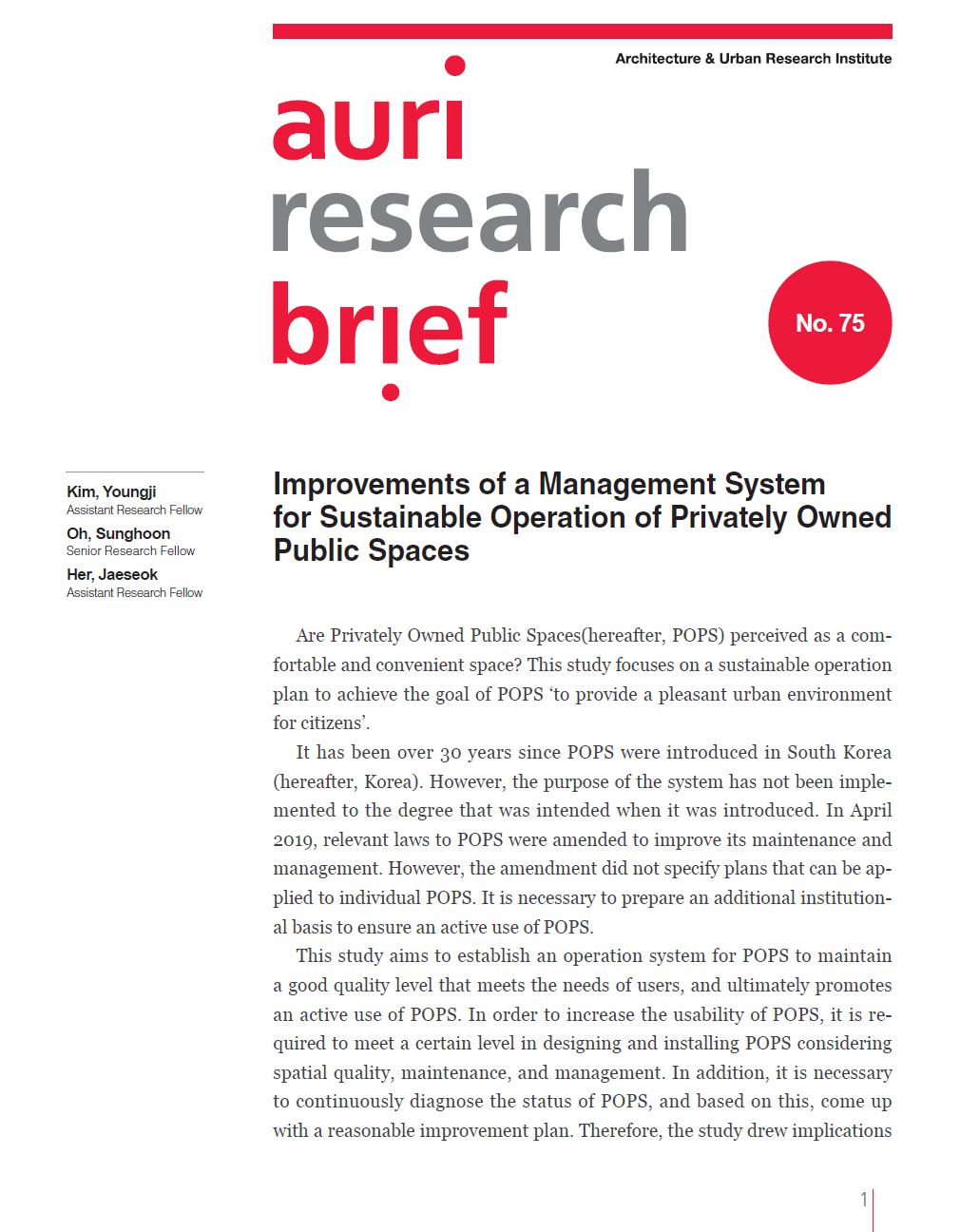 Are Privately Owned Public Spaces(hereafter, POPS) perceived as a comfortable and convenient space? This study focuses on a sustainable operation plan to achieve the goal of POPS 'to provide a pleasant urban environment for citizens'.
It has been over 30 years since POPS were introduced in South Korea(hereafter, Korea). However, the purpose of the system has not been implemented to the degree that was intended when it was introduced. In April 2019, relevant laws to POPS were amended to improve its maintenance and management. However, the amendment did not specify plans that can be applied to individual POPS. It is necessary to prepare an additional institutional basis to ensure an active use of POPS.
This study aims to establish an operation system for POPS to maintain a good quality level that meets the needs of users, and ultimately promotes an active use of POPS. In order to increase the usability of POPS, it is required to meet a certain level in designing and installing POPS considering spatial quality, maintenance, and management. In addition, it is necessary to continuously diagnose the status of POPS, and based on this, come up with a reasonable improvement plan. Therefore, the study drew implications through comparative analysis of POPS in Korea and other countries, checked the status of maintenance and management by types of POPS, and conducted a survey on the perceptions of users and managers. An integrated operation plan for POPS were proposed and an institutional basis for implementing strategies for maintenance, management, and utilization of POPS were prepared.
Kim - other reports